MistVape are known to produce some of the best vaporizers on the market. Their biggest selling point for their vapes is that they are hand crafted and have a very nice artisan feel to them. The Essence is another vape from MistVape, except, unlike The Touch, The Essence is torch powered.
The Touch By MistVape
The Touch is an on demand, battery powered dry herb vaporizer. It is constructed from wood and is powered by an 18650 battery.
First Impression
Right out of the box, The Touch looks like a very nice looking product.
You can tell it is hand made. There is a slot for the battery where the cover secures it close (the cover can also be fixed the other way around to prevent accidental activation).
There is a mouthpiece where  you fill with your ground herb. Once the mouthpiece is filled and in position and your battery is in place, you are ready to vape.
The Vape
The operation is extremely simple. You simply Touch on the black button, conveniently placed on the opposite side to the mouthpiece. As you touch, the coils warm up and you can literally start drawing from it in a matter of 7-10 seconds. The longer you touch the button, the hotter the coil will be. Be careful as you don't want to combust your herb. So I kept it at 10 second intervals, then stirring the content and repeat.
As you heat, you can see the coil through the glass window on the side heating up and glowing red. I use this as an indicator to start drawing from it.
The vapor production is very smooth. A good amount of vapor. The taste and effect are very nice too.
What I love most about this is that unlike many other battery powered vapes, with The Touch, the waiting/heating time is so minimal. It can almost be put in to the same category as butane/torch vapes.
Cleaning & Maintenance
Cleaning The Touch could not be easier. You simply remove the mouth piece. Drop it in ISO alcohol and leave it there over night. Rinse with hot water the next day and leave it dry.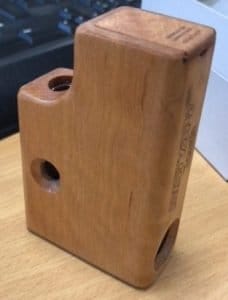 There is no need, and in fact advised against it, to take the unit apart. MistVape's site clearly says, if you do take it apart and damage the unit, it will not be covered by them.
Conclusion
Love that, while being battery powered, the vapor production is almost instant.
The draw is clean and smooth allowing you to fully taste and enjoy your contents. The glass mouth piece definitely enhances the taste.
I just love holding it in my hands, and looking at it. It looks warm and comfortable, as opposed to the cold feeling of metal.